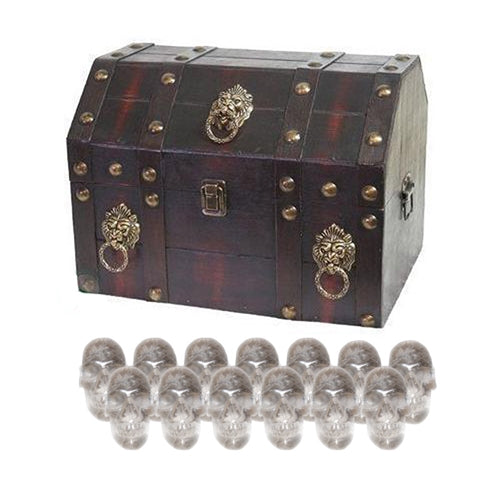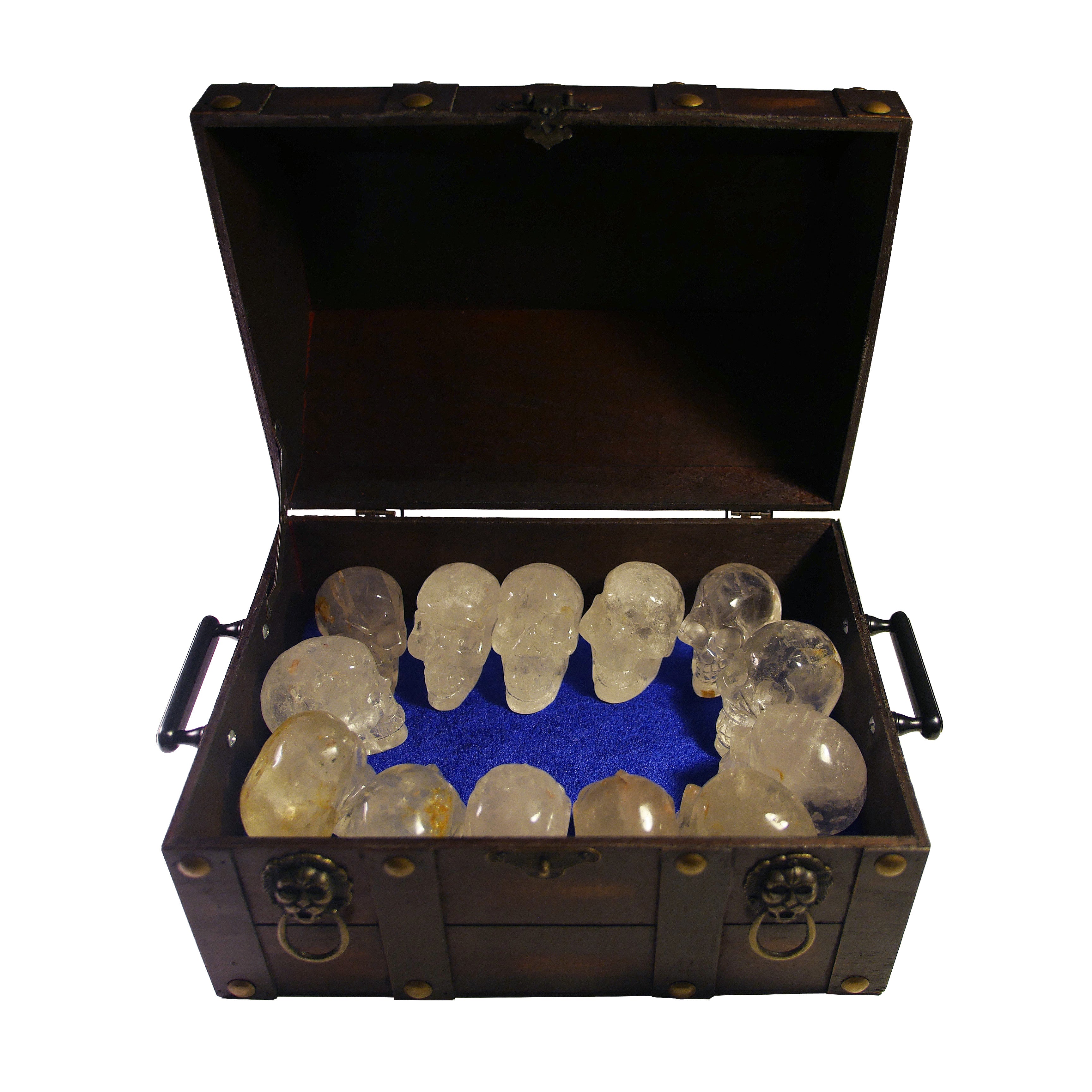 13 Large Crystal Skull Set with Apocrypha Manifestation Chest
What you Get:
1 - Apocrypha Manifestation Chest 13" x 9" x 9"
13 - Large Crystal Skulls Set
1 - Orgone Matrix Lapis Charger Plate
1 - Instruction Guide
Apocrypha Manifestation Chest large
Store all your sacred and magical treasures inside this reliquary. Your Apocrypha Manifestation Chest is designed to hold your 13 large crystal skull set which is included with the price of this order. The chest contains a charger plate made from copper, gans, and Lapis lazuli stones set in organic orgone matrix at the bottom which is meant to increase your clairvoyance when combined with your own quartz crystals or this 13 crystal skull set.
Inside the chest we suggest you also insert a sheet of paper containing pictures or symbols of your desired manifestations and or grabovoi numbers. You can also mediate with the chest by placing it between your palms and activating the crystal skull set by simply following the provided instructional guide. Because this device is a consciousness generator the effects created is dependent on the psychic ability and intent of the operator. It is the operators responsibility to be of positive mind and intention when playing around with consciousness technology as the device manifests more of who you are. It is also conscious and just like people , needs to be respected for it to function properly. Thirty percent of all people are not energy sensitive and may not feel or manifest anything until the DNA begins to relax and unwind after many hours of meditation usage.
Quartz Crystal Skull
Clear Quartz is a powerful all-purpose stone that amplifies thought, energy and intention by raising our vibration and consciousness. Clear Quartz acts like a radio receiver to enhance intuition and clear guidance, opening the crown chakra to connect with divine guides. Quartz is a powerful magnifier, which makes it a great stone for working with the Law of Attraction by amplifying your intentions for receiving or projecting healing, abundance, insight, intuitive guidance, and for connecting with other dimensional planes of experience. When a Crystal is carved into a skull its unique shape can concentrate Kozyrev's time energy in which consciousnesses effects time density, in other words editing timelines. These skulls have been energy treated with our clairvoyance activator to light activate your 13 crystal skulls and awaken your soul to new levels of clairvoyance and remote viewing. Meditating with the Skullem will assist your path to longevity, charisma, great wealth, and abundance.
Lapis lazuli
Lapis is a stone of total awareness, allowing for conscious attunement to the intuitive and psychic aspects of ones nature. It awakens the realization of ones connection to their perfect self. Lapis is also a stone of mental activity and acuity; of wisdom and self awareness. One may also help the user find a deeper connection with the celestial plane and mystical realms .Each ounce of quartz and lapis projects energy 10 miles in diameter.
What is Gans?
Aging is caused by a decrease of hydrogen molecules in the DNA replication process. DNA replication uses holographic templates found within our astral or etheric body. Over time stress, low frequency food and water, negative emotions, and toxins can cause our original holographic blueprint to degrade in clarity. Plasmatic matter is a state of matter that is most closely related to source energy. Because it is not totally in this physical dimension and because it contains a form of loving god consciousness it can utilize laws of quantum entanglement to restore matter to its highest form and manifest our highest intentions. The gans in this elixir contains vibrational essence of 24kt gold, silver, copper, zinc, and iron. 96% of our body contains these same elements. By placing these plasmatic elements near or in our physical tissues it can help retune the body back into its perfect created form so that our DNA can re-uptake the proper amount of hydrogen molecules and return us back to a youthful form. Additionally when we eat food 80% of the energy absorbed through food is in a plasmatic state, this is why we are to pray over our food by blessing it with love energy which increases its plasmatic vibration. We encourage users to also bless their elixir before use by expressing the love we will feel to the universe as we visualize our body in a younger state. With the introduction of plasmatic gans back into our diet you may notice a reduction in appetite, restoration of healthy emotional states, and enhanced psychic abilities thanks to the reconstruction of hydrogen bonds within our dormant DNA.
User manual included. Please allow two weeks for the construction of this device. Weighs approximately 14 pounds.
Please Read Before Buying
PAYMENT 
We accept Visa, MasterCard, and Discover credit and debit card payment, as well as international money orders in the mail via Western Union, USPS, and Canadian postal money orders. We also offer PayPal  in our online shopping cart. Please note some international credit/debit cards are country restricted so if you have not made a purchase in the United States before we recommend you use the paypal payment option if your card is denied. 
SHIPPING
Free domestic shipping within the United States, Canada, AK, HI, and APO addresses. Tracking numbers are available by request only . Orders that are in inventory will ship within three to five business days unless otherwise notified. International buyers: We offer free parcel post shipping which can 
typically be 
about 3 to 4 weeks. For a extra cost USPS Priority (5 to 10 days) and USPS Express International (3-7 days shipping) 
is available and 
comes with a customs tracking number. International parcels that use the priority mail shipping method are only insured for $500. Feel free to contact us if you have any special instructions to put on the customs form as some countries may hit you with a vat tax or a import tax if you choose full insurance value. All return shipping and insurance is the responsibility of the purchaser. 
DISCLAIMER
Neological Technologies and James Rink is to be held harmless by all third parties. All portals opened and not closed properly is of the owners sole responsibility. By using and trusting the Neo device completely you agree that you are ready to face your own subconscious vectors and transcend them through the power of meditation.
We guarantee the neo device to be new and free of defects for one year from date of purchase. We offer refunds up to 30 days after you receive your unit but only for returned defective merchandise such as from damage in shipping. If your returned item is not defective we reserve the right to charge a 15% restocking fee, for sanitary reasons we cannot accept returned units which have had its plastic wrap removed. Please allow 2 to 4 weeks to process your refund. If you are not satisfied with your order you must first contact us within 30 days of your purchase to begin the return process. This guarantee gives you certain rights and all rights are reserved. As always we offer free support and as with any "spiritual" device static or electronic or otherwise. We encourage you to share your experiences and reserve the right to post your experiences with only your first name and city/state unless otherwise directed in your conveyance.