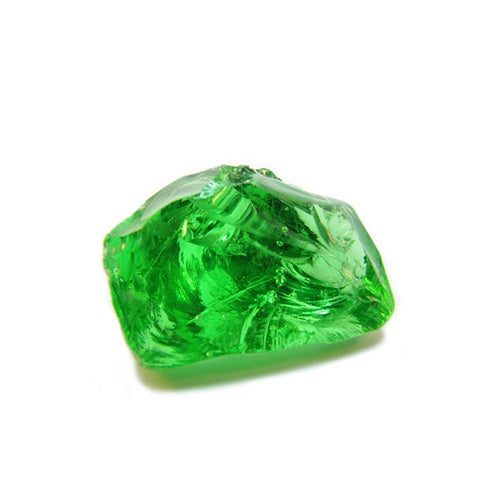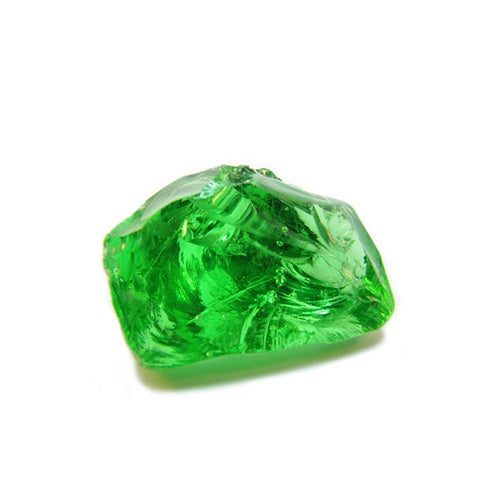 Andara Crystal
Andara Crystals come in many colors. If there is a specific color you desire please call 704-763-2895 for availability otherwise our staff will pick the color for you. Approximately 1/2 to 1 ounce in size.
Andara Crystal

In 1995, a unique mineral deposit was discovered near one of earth's high-energy vortex sites in the High Sierra Mountains of northern California. Monatomic Elements of Gold, Silver, Iridium, Rhodium, Chromium, Platinum, and other monatomic minerals were found in this deposit. This natural mineral complex exhibits extraordinary properties that strengthen and stabilize the electromagnetic fields of the human body.
Discovered within the deposit were glass-like crystals of exceptional power and beauty. Monatomic Andara crystal is a glass-like transmuted mineral complex from this naturally occurring mineral deposit high in monatomic minerals. The modalities of these crystals interact with the individual electromagnetically, restoring health and equilibrium. The Monatomic Andara crystal is very special. In confirmed scientific testing of the location where they were originally found, the soil that Monatomic Andara crystals were discovered in contain high levels of monatomic metallic elements.
Monatomic metallic elements are single atom metal elements that behave very differently than normal metals. First, as an example, monatomic gold is a fine white powder with very little weight, where metallic gold is very heavy. The atomic electron spin rate "frequency' in monatomic gold is much higher than gold. Very specialized equipment is needed to even test monatomic gold, as normal testing procedures produce inconclusive results or unknown substance. When monatomic metallic elements are heated to high temperatures, they transmute to a glass like material, Monatomic Andara crystal. Monatomic elements have the following confirmed properties:
· Very high atomic spin rate or vibrational energy
· Like light photons, they pop in and out of existence
· Their vibrational energy can be passed to other objects
· They are first-matter elements, "prima matra"
· They have been used throughout history to heal and raise / expand consciousness.
According to the akashic record reading of Tehuti/Thoth by Rev. Maia Shamayyim-Nartoomid…. "Andara is the name we have chosen to give to these crystals. They are composed primarily of "Prima Matra" (sacred matter) heated to very high temperatures. We have related to you in past transmissions that the "sacred matter" powders (referring to the "Etherium-Gold" and Prima Matra powder being sold as spiritual/nutritional supplements) coming from this sacred land were created by an inter-dimensional energy implosion. Those we call the "Timewalker", who worked in conjunction with the High Devas myth logically depicted as Unicorns, originally seeded the land for the formation of this Prima Matra. When the implosion occurred the 'seed' material was heated not only to very high levels but also in a contained "hyper-field" which is created by two dimensions touching. A hyper-field forms a "no-time" zone where linear laws of thermodynamics are warped or in some cases do not apply at all. It was within such a hyper-field that the Prima Matra powders and the Andara Crystals were originally created. Approximately 2,000 years after the inter-dimensional implosion had occurred, a Lemurian temple complex was raised on this site. The name of this temple was 'Andara' meaning "Light of Beauty and Perfection". The primary purpose of this complex was in working with the Prima Matra powders, crystals and water of the land. By this we mean that through their purposeful interaction with the Prima Matra they effectively transmuted their crystalline DNA, therefore becoming a highly futurized from of "hue-man" being, even more developed in the Light matrix than the Lemurians of that age. Thus, we will cease calling these colonists "Lemurians" and refer to them as "Andareans"."
Tehuti "Now we focus on the subject of the Andara Crystals. While they resemble a crystalline lava-glass and while certain similarities are present between lava-glass—such as obsidian and these crystals, they are vastly different energetically. Natural lava-glass could only be seen energetically as a distant cousin of Andara Crystals. Lava-glass is created from volcanic activity deep in the Earth, with the material coming to the surface in an eruption and being exposed to specific conditions as it cools. Because these lava-glass minerals come from deep inside the Earth within chambers containing great heat, they do contain various levels of Prima Matra. Andara Crystals are even rarer than the Prima Matra lava-glass, in that they were formed inside a no-time hyper-field, creating within them a kinsothemitic continuum. This continuum that allows a moving time field within the elemental and structural composition of the crystal formation. In essence, this 'K' continuum does not align to natural polarity. Instead, it phase-matches directly with the Universal Light matrix, or the 'Golden Net' of Athena. (Note: Athena's Net is the geometric space-time continuum, a.k.a. 'The Web of Athena'.)"
Being heliocentric, the Monatomic Andara crystal tends to draw the individual's consciousness into the center of the energy spiral within when they gaze into the crystal, thus bringing that person's consciousness into more intimate contact with the Andarean consciousness. Monatomic Andara crystal also creates a double vortex, in other words they have zero point energy and they have super-conductive monatomic energy.
It has been our experience that the field associated with the Monatomic Andara Crystal represents a very large kinetic potential. It works quite differently than regular crystals like quartz, where one may amplify their intention through the crystal. Instead, one inserts their intention into the kinetic field associated with the Monatomic Andara Crystal and the ENTIRE field moves in response to that intention.
Weighs approximately 2 ounces. Comes in various colors red, blue, red, black, white, etc.
Please Read Before Buying
PAYMENT 
We accept Visa, MasterCard, and Discover credit and debit card payment, as well as international money orders in the mail via Western Union, USPS, and Canadian postal money orders. We also offer PayPal  in our online shopping cart. Please note some international credit/debit cards are country restricted so if you have not made a purchase in the United States before we recommend you use the paypal payment option if your card is denied. 
SHIPPING
Free domestic shipping within the United States, Canada, AK, HI, and APO addresses. Tracking numbers are available by request only . Orders that are in inventory will ship within three to five business days unless otherwise notified. International buyers: We offer free parcel post shipping which can 
typically be 
about 3 to 4 weeks. For a extra cost USPS Priority (5 to 10 days) and USPS Express International (3-7 days shipping) 
is available and 
comes with a customs tracking number. International parcels that use the priority mail shipping method are only insured for $500. Feel free to contact us if you have any special instructions to put on the customs form as some countries may hit you with a vat tax or a import tax if you choose full insurance value. All return shipping and insurance is the responsibility of the purchaser. 
DISCLAIMER
Neological Technologies and James Rink is to be held harmless by all third parties. All portals opened and not closed properly is of the owners sole responsibility. By using and trusting the Neo device completely you agree that you are ready to face your own subconscious vectors and transcend them through the power of meditation.
We guarantee the neo device to be new and free of defects for one year from date of purchase. We offer refunds up to 30 days after you receive your unit but only for returned defective merchandise such as from damage in shipping. If your returned item is not defective we reserve the right to charge a 15% restocking fee, for sanitary reasons we cannot accept returned units which have had its plastic wrap removed. Please allow 2 to 4 weeks to process your refund. If you are not satisfied with your order you must first contact us within 30 days of your purchase to begin the return process. This guarantee gives you certain rights and all rights are reserved. As always we offer free support and as with any "spiritual" device static or electronic or otherwise. We encourage you to share your experiences and reserve the right to post your experiences with only your first name and city/state unless otherwise directed in your conveyance.
comments powered by

Disqus