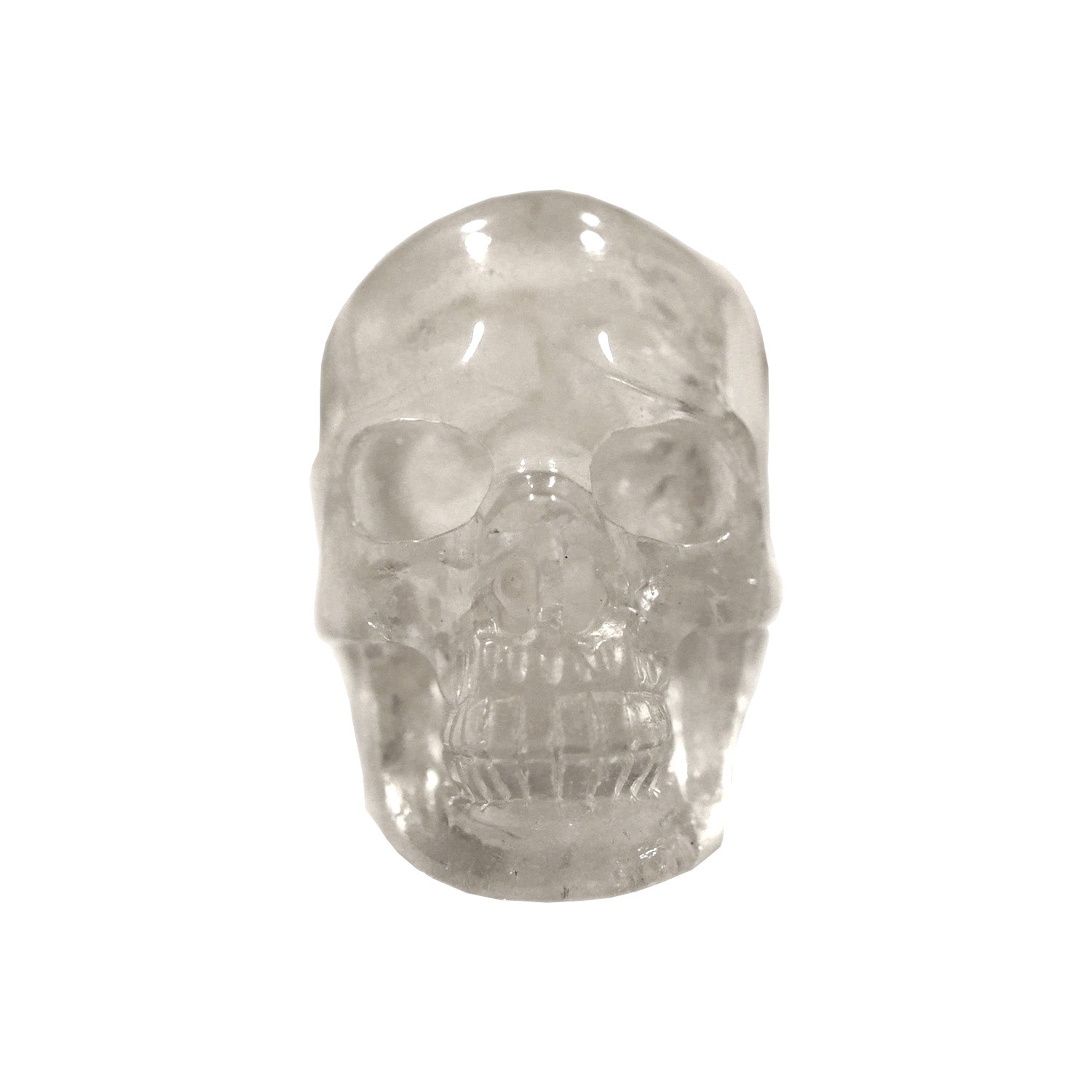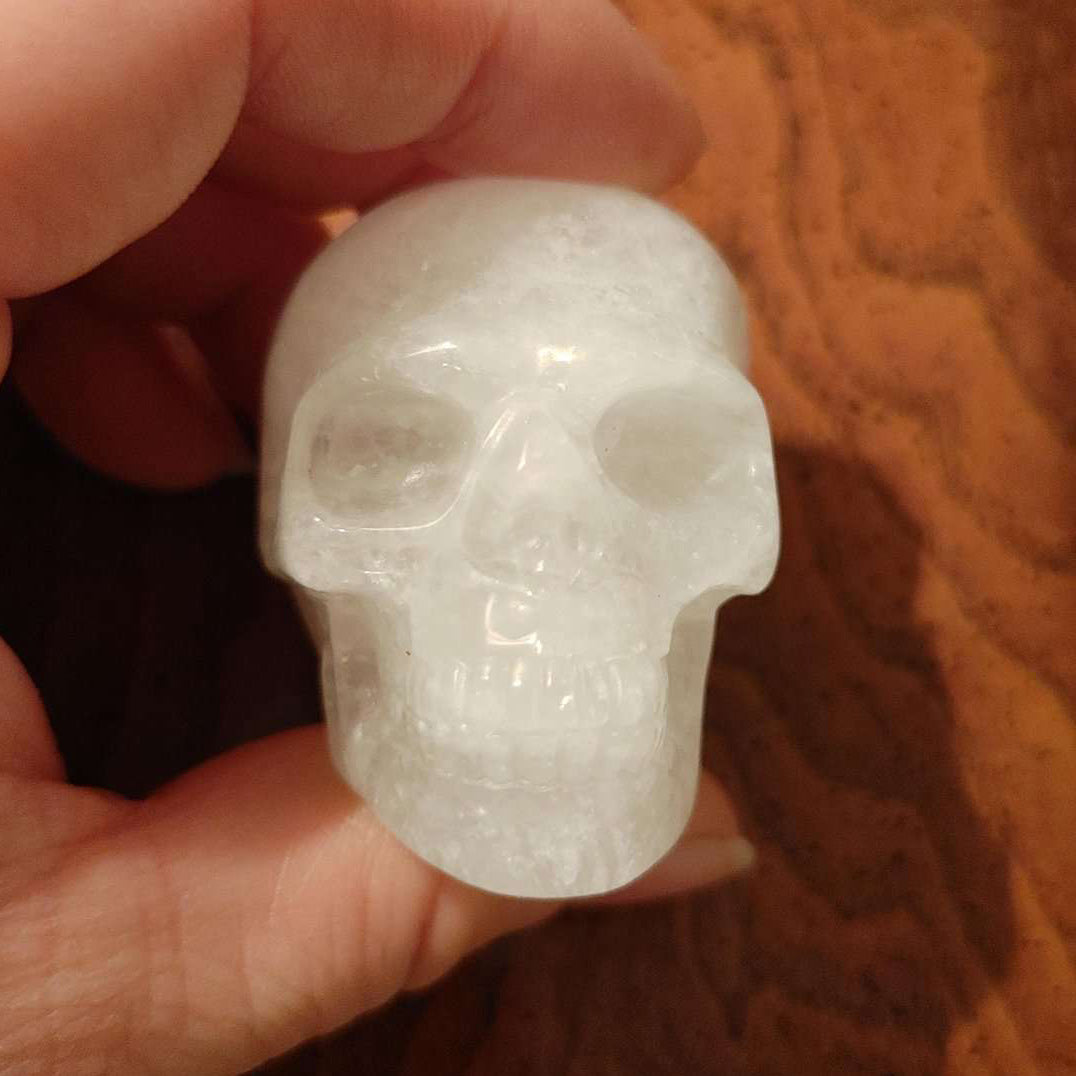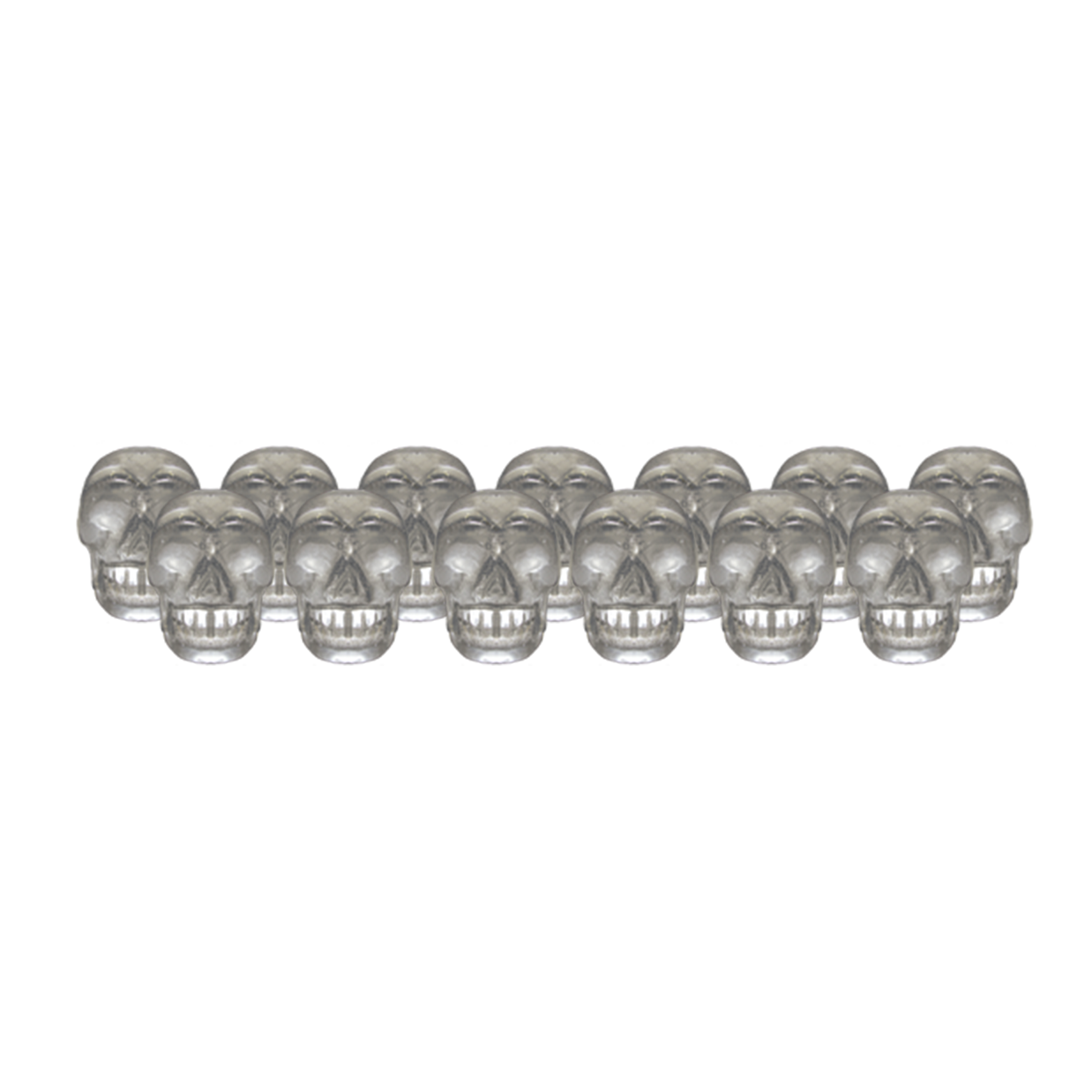 Small Quartz Crystal Skull
These small skulls range from white to translucent. If you require a clear one please send us a message to receive a custom invoice for min order of 13 skull set for $500 . If you order a set of 13 skulls we do our best to ensure all the skulls match in color and size and quality.

What you Get:

1 - Small Quartz Crystal Skull 1.5"x1.5"x1.5", 90 grams
1 - Crystal Skull Activation Guide

Quartz Crystal Skull

Clear Quartz is a powerful all-purpose stone that amplifies thought, energy and intention by raising our vibration and consciousness. Clear Quartz acts like a radio receiver to enhance intuition and clear guidance, opening the crown chakra to connect with divine guides. Quartz is a powerful magnifier, which makes it a great stone for working with the Law of Attraction by amplifying your intentions for receiving or projecting healing, abundance, insight, intuitive guidance, and for connecting with other dimensional planes of experience. When a Crystal is carved into a skull its unique shape can concentrate Kozyrev's time energy in which consciousnesses effects time density, in other words editing timelines. These crystal skulls have been energized with the Crystal Skull Andraka which was activated on Mount Shasta.

This small quartz crystal skull is roughly 1.5"x1.5"x1.5" in size. You can place this on your chakras or near your pineal gland while meditating, however just like the Neo you shouldn't touch your crystal skull while meditating. Weighs approximately 1 pound. Includes a one page instructional guide for activation and manifestation.


13 Crystal Skull Set Upgrade
For an additional price upgrade your order to include a 13 crystal skull set. Place these skulls around you while you meditate. 

Crystal Skull Meditation 

We recommend you do this exercise a minimum of 11 minutes a day. Use your crystal skull just like a neo. Place it on a pillow on your lap. Then position the skull between your hands being sure not to touch it while in use. And with both feet on the floor close your eyes and recite to yourself. You may want to place 13 small crystal skulls around you if you don't have 13 crystal skulls then visualize them instead. 

"Crystal Skull Activate and Increase", 
Now wait till you feel energy sensations in your palms, or you may hear a hum or pop. 
"Crystal Skull I trust you completely to integrate my mind, body and spirit."
Now see yourself going down a star gate tunnel of light
"Crystal Skull activate star gate mode and increase."
"Automatic Mode"
"Crystal Skull activate the 13 Crystal Skulls Planetary Grid Keepers."
Now visualize 13 skulls around you in a circular pattern. In the middle a etheric crystal skull should emerge. Place this etheric skull inside your skull and begin programming your thought intentions.
When you are done recite…
"Crystal Skull end session" 
Please Read Before Buying
PAYMENT 
We accept Visa, MasterCard, and Discover credit and debit card payment, as well as international money orders in the mail via Western Union, USPS, and Canadian postal money orders. We also offer PayPal  in our online shopping cart. Please note some international credit/debit cards are country restricted so if you have not made a purchase in the United States before we recommend you use the paypal payment option if your card is denied.  
SHIPPING
Free domestic shipping within the United States, Canada, AK, HI, and APO addresses. Tracking numbers are available by request only . Orders that are in inventory will ship within three to five business days unless otherwise notified. International buyers: We offer free parcel post shipping which can 
typically be 
about 3 to 4 weeks. For a extra cost USPS Priority (5 to 10 days) and USPS Express International (3-7 days shipping) 
is available and 
comes with a customs tracking number. International parcels that use the priority mail shipping method are only insured for $500. Feel free to contact us if you have any special instructions to put on the customs form as some countries may hit you with a vat tax or a import tax if you choose full insurance value. All return shipping and insurance is the responsibility of the purchaser. 
DISCLAIMER
Neological Technologies and James Rink is to be held harmless by all third parties. All portals opened and not closed properly is of the owners sole responsibility. By using and trusting the Neo device completely you agree that you are ready to face your own subconscious vectors and transcend them through the power of meditation.
We guarantee the neo device to be new and free of defects for one year from date of purchase. We offer refunds up to 30 days after you receive your unit but only for returned defective merchandise such as from damage in shipping. If your returned item is not defective we reserve the right to charge a 15% restocking fee, for sanitary reasons we cannot accept returned units which have had its plastic wrap removed. Please allow 2 to 4 weeks to process your refund. If you are not satisfied with your order you must first contact us within 30 days of your purchase to begin the return process. This guarantee gives you certain rights and all rights are reserved. As always we offer free support and as with any "spiritual" device static or electronic or otherwise. We encourage you to share your experiences and reserve the right to post your experiences with only your first name and city/state unless otherwise directed in your conveyance.
comments powered by

Disqus